Volunteer opportunities abound at nourish.NJ!

From serving lunch to our guests, to sorting fresh produce for our Free Farmer's Market to helping out at a fundraiser, volunteers make it all happen! We'd love to have your help.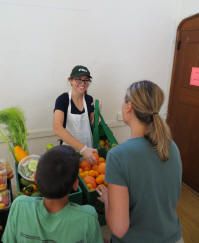 New volunteers are asked to attend a work activity (usually a pantry transfer or assisting with cutlery packets) and a brief orientation before volunteering - that way we can fill you in on all of our different opportunities! 
We have orientations once a quarter.  Our next orientation date has been postponed.  We will post a date in this section of our website as soon as we have a date.
For a list of ways you can help before you come to a work activity, click here.  Once you've joined us for your work activity and orientation your name will be placed on our Volunteer List and you can begin signing up to help. 

nourish.NJ Volunteer Opportunities:
Serving Line – 7 days a week – Help serve a hot noontime meal. Must be 12 years old. Commitment is from 11:15 am to 1:00 pm.
Serve Breakfast - 7 days a week, must be 12 years old. Commitment is 8:50 to 10:30 a.m.
Free Farmers Market – Monday and Friday - Sort and distribute food donations from Trader Joe's, Whole Foods, and Stop & Shop. It's like working in a food store where everything is free for anyone in need! Must be 12 years old. Commitment is from 10:30 am to 2:30 pm. if you would like to sort and distribute, 12:45 pm to 2:30pm if you would just like to distribute.  Wednesday market is offsite and the time commitment is 3:00 to 4:45.
Pantry Transfer – Typically scheduled for Tuesday mornings 9:30 to 10:30.  Volunteers meet our van driver at our offsite pantry (about one mile away), load our van, and then return to the soup kitchen to unload. 
Kitchen Volunteer – Our 1 hour training class gives you all the info you need to assist in our certified kitchen. Must be 18 years old. Please inquire about our next training date email volunteer@nourishnj.org
Youth Council – Take a leadership role in solving the local problems of homelessness and poverty. - for 7th and 8th graders – Meets 6 – 8 times per year. Email Heidi at heidi@nourishnj.org for more information.
Please note, Serving Line, Kitchen Volunteers, and Free Farmers Market dates are typically scheduled one month in advance.