nourish.NJ creates lasting solutions to the problems of hunger, homelessness and poverty. We offer food, housing, work readiness, medical, social and educational services 365 days a year in a warm, safe and caring environment, free of charge, no questions asked. 
In 2021, our community has responded to the needs of Morris County residents in meaningful and transformative ways. Thanks to you, we have:
Provided more than 76,440 nutritious meals to anyone who needed them;
Provided more than 200,000 lbs of fruit, vegetables, meat, dairy, eggs and other fresh food for guests to take home from our Free Farmers Markets;
Provided more than 750 hours of direct case management assistance to clients, including 200 hours of housing assistance for emergency housing and eviction prevention and 100 hours of employment assistance;
Assisted more than 117 individual clients with consistent direct case management including housing, employment, and crisis assistance.
Partnered with other local agencies to make sure the hardest to reach among us could receive COVID-19 vaccinations; and
Welcomed guests every single day in 2021.
Guest Stories
Charles
Charles had a good job with a large corporation, and was able to provide for his husband and two children. They had a brand new house, two cars, and both kids were in private school. One day, without warning, his company downsized and Charles was laid off. Finding work was not easy, and his savings is starting to dwindle. Charles had to sell one of their cars, and his husband got a low-paying job through a temp agency. The kids changed schools. The whole family's lives changed in the blink of an eye. Debt started building, and the bank foreclosed on the family home. Charles, his husband, and two children were able to move in with extended family, but it was very cramped and a home that is not their own. Charles was able to pick up a contract job, but it is sporadic and does not include health insurance.
Money was tight, and putting food on the table got more and more difficult every day. One day, Charles remembered his old neighbor used to volunteer at a place called nourish.NJ. He was embarrassed to ask for help, but decided to try anyway. At nourish.NJ Charles is welcomed, no questions asked, and given a delicious hot meal. He's amazed at how much food there is. The staff gives him bags of groceries, fresh fruit, fresh vegetables, cereal and snacks for the kids. They tell him to bring the kids next time he comes. Charles thinks he will…
We meet guests from all walks of life who all have one thing in common, they lean on nourish.NJ for assistance. Though Charles once thought he wouldn't need our resources, he is thankful that we were there when he DID need us. In the past year, nearly 450,000 families in our area reported food insecurity, and only 58% of jobs have returned. These numbers are continuing to rise, and our work will follow that trend as more and more individuals come to nourish.NJ's door.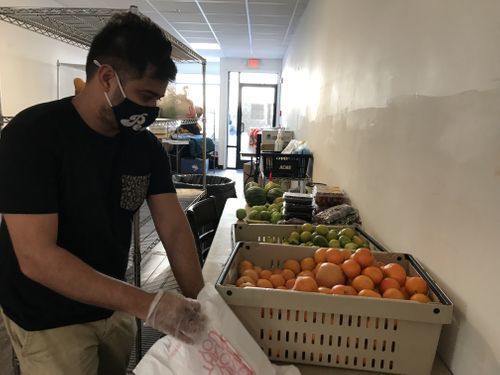 Rose
Rose and her partner have been struggling to make ends meet financially. They have 2 children under the age of 5 and have no family support. Rose is currently unemployed due to COVID therefore they only have one income. The father works long hours & mom is having difficulty affording childcare and food. nourish.NJ was able to support her financially to get her oldest child into summer camp. It was important for her to have her son in camp to help him socialize after being home during the pandemic, isolated from friends as well as giving Rose the ability to look for work. Rose and the social worker at nourish.NJ were able to work on her resume to help her get a job. nourish.NJ was able to deliver food to her & give her baby supplies to help while other women & infant services were shut down during the pandemic. Rose is doing great now & and is slowly getting back on her feet. Her son is really enjoying camp and making a lot of new friends. We are now working on getting Rose's son into the after school program now that school is beginning.